0
26 Feb 2009
Who Hopes for What they Always Had?
Album: 2007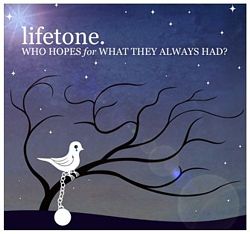 Tracklisting:
1. Salvation
2. May My Life (Be a Song)
3. Who Hopes For What They Already Had?
4. Wildflower
5. The Night is Nearly Over
6. Pilot
7. Beautiful
8. Praise the Lord O My Soul
9. Stars
10. Now My Eyes Have Seen You
> VIEW LYRICS (PDF)
BUY NOW
> Lifetone Store
> Koorong Books
> iTunes
REVIEWS:
CHRISTIANITY TODAY. COM:
"… captures the attention from the first track and doesn't let go until the final note is played.
The quality is indeed strong, but even more surprising is what Lifetone manages to do with the praise & worship genre. Rather than stick with tried-and-true sentiments expressed countless times before, the group pens thoughtful, original lyrics that stick with you for the long haul—imagine that."
To read all the review go here.
SYDNEYANGLICANS.NET:
"Faith and dependence on the saving grace of God through Jesus shines out from virtually every song, from the opening anthem Salvation to the mellow finale Now My Eyes Have Seen You…
It's the songwriting which really stands out in this album… Wade Iedema and company have put together a good mix of indie sound and solid lyrical foundations…"
To read all the review go here.